Atlantic Inn
359 High St New Shoreham
Victorian charm on Block Island
Perched atop a hill just above town, the Atlantic Inn tru­ly offers the best of loca­tions: boast­ing both peace­ful­ness and prox­im­i­ty. While the major­i­ty of shops, restau­rants, and fer­ries are just a short 7-minute stroll away, the six-acre prop­er­ty offers qui­et sur­round­ings of rolling lawns and care­ful­ly tend­ed gar­dens. The lofty loca­tion also offers stun­ning water views and fresh ocean breezes.
Our Rooms & Cottage Suites
Each of the Atlantic Inn's 21 rooms reflects the Vic­to­ri­an spir­it of the cir­ca 1879 build­ing, and are indi­vid­u­al­ly dec­o­rat­ed with antiques, flo­ral fab­rics, and wall­cov­er­ingos. All accom­mo­da­tions are locat­ed on the sec­ond and third floors of our build­ing and are acces­si­ble by stairs only.
Each room is cozy and wel­com­ing has a pri­vate bath and is ful­ly heat­ed. None of the rooms in the main house have tele­vi­sion or air con­di­tion­ing. They do have fans, and we are for­tu­nate to be on top of a hill that offers plen­ti­ful ocean breezes.
Look­ing for more space than a tra­di­tion­al hotel room? Our Cot­tage Suite is locat­ed direct­ly behind our main build­ing and pro­vides more space for your par­ty. This com­fort­able, open stu­dio is locat­ed on the first floor and fea­tures a Kitch­enette (stove­top but no oven, microwave, toast­er, cof­fee mak­er, and fridge), full bath, and a sun­ny open lay­out with a King Sized Bed and a Dou­ble Pull­out Sofa.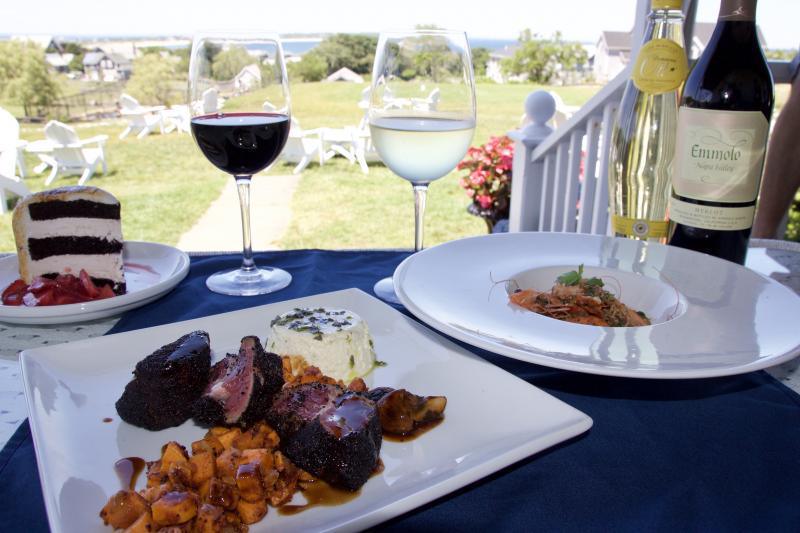 Exquisite Dining
The Atlantic Inn's Restau­rant 1879 is proud to wel­come you to Block Island's most renowned fine din­ing expe­ri­ence. Relax and enjoy our unob­tru­sive, unhur­ried ser­vice and cre­ative, sea­son­al cuisine.
Chef Den­ny Gomes offers ever chang­ing menus fea­tur­ing the very best local pur­vey­ors have sourced. In addi­tion to our tra­di­tion­al din­ner menu, a veg­e­tar­i­an menu is always avail­able. All accom­pa­nied by cre­ative craft cock­tails and our Wine Spec­ta­tor Best of Award of Excel­lence win­ning wine list.
A vis­it to Block Island would not be com­plete with­out enjoy­ing a spec­tac­u­lar sun­set from our gra­cious veran­da or sprawl­ing lawn dot­ted with Adiron­dack chairs.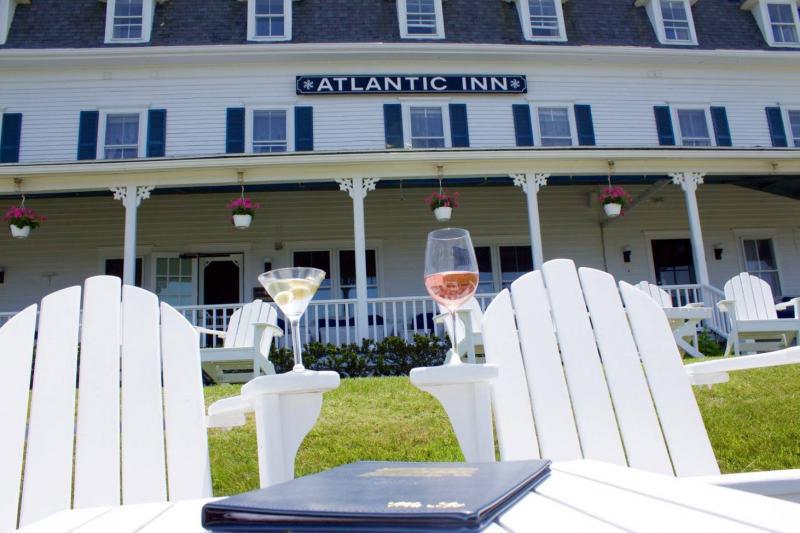 Other things we do at the inn include: